Gunshots, grenades and anger in Jerusalem
Comments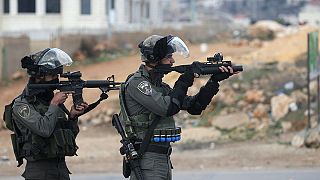 Israeli police shot dead a Palestinian they said tried to stab an officer near Jerusalem's Old City on Saturday (December 26), the latest in a spate of street violence in the occupied territories.
Outside the walled city, police threw stun grenades and fired rubber bullets to disperse protesters demanding that Israel return the bodies of several dozen Palestinians killed by Israeli forces.
Protest outside Damascus Gate of around 300 broken up with sound bombs, teargas. pic.twitter.com/uXsgzsQgmE

— Kaamil Ahmed (@KaamilAhmed) December 26, 2015
In the West Bank, thousands attended the funerals of two Palestinians — one of a woman who reportedly tried to ram her car into Israeli police officers, another of a man killed during clashes at the border between Gaza and Israel.
Twenty Israelis and at least 127 Palestinians have been killed in almost daily street attacks and clashes over the past three months. The violence has been fueled by increased Jewish presence in areas also revered by Palestinians, frustration over the collapse of peace talks and Islamist calls to destroy Israel.
Young Palestinians with kitchen knives are creating 'a new kind of terrorism' in Israel https://t.co/BeV0xdDAA4pic.twitter.com/GrXSGp8I2j

— Post Graphics (@PostGraphics) December 25, 2015