Corsica prayer hall and kebab shop targeted in 'revenge attack'
Comments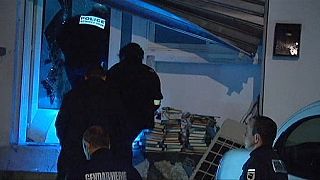 Demonstrators have vandalised a prayer hall on the French island of Corsica .. setting fire to prayer books and copies of the Koran. A kebab shop was also targeted.
The attack is the latest in an escalating tit-for-tat conflict involving local masked youths.
The French government has condemned the assault as racist and xenophobic.
"It is not acceptable that on the territory of the Republic, that some people think they can take the law into their own hands to find the perpetrators of aggression against firefighters," said Christophe Mirmand, Prefect of South Corsica.
The firefighters had been ambushed after removing piles of tyres and wood which are often set alight in some neighbourhoods on New Years Eve.
Hundreds gathered in the capital city of Ajaccio to express support for two firefighters and one police officer injured in the attack.
A group of demonstrators broke from the crowd to look for revenge in the local neighbourhood.