Pope urges return to simplicity at Christmas Eve mass
Comments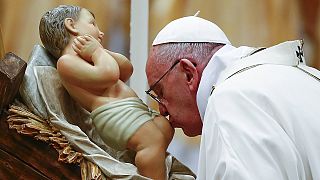 Pope Francis celebrated Christmas Eve Mass at St. Peter's Basilica in front of a congregation of 10,000 people.
He used the opportunity to remind Catholics everywhere to reject consumerism and return to the essential values of life.
Recalling the humble birth of Jesus in a stable in Bethlehem, he urged people to look to that example and seek simplicity and balance in their lives.
The Christmas Eve mass took place amid tight security with many police carrying out spot checks in the Vatican area. It is the pope's only public mass this Christmas.
On Christmas Day he will deliver a traditional message from the central balcony of St. Peter's Square.