Bethlehem: Christmas in the birthplace of Christianity
Comments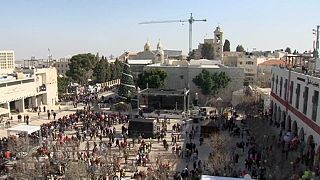 It's the birthplace of Christianity, but Christmas celebrations in Bethlehem will be toned down this year. Security has been stepped up amid a wave of deadly violence between Israelis and Palestinians.
Authorities are hoping thousands of pilgrims will make the journey to the town, with Bethleham's mayor insisting traditional festivities should take place.
Palestinian officials are calling for calm, but also justice.
"This is the birthplace of the King of Peace so what we want is peace. Peace like all other nations in the world and our message to the world is a message of peace and we say all we want for Christmas is justice," said Rula Maaya, the Palestinian Minister of Tourism.
But although Bethlehem's Christmas tree has been lit, other parts of the town are less festive. In Aida, which has been a hotbed of violence in recent months, boards have been placed across windows in anticipation of tear gas attacks.
Seen a Christmas tree more (or less) impressive than these efforts from around the world?Send your pictures to us on…

Posted by euronews on Monday, 21 December 2015