Pope Francis blessing in Rome invokes Christmas to dispel anxiety
Comments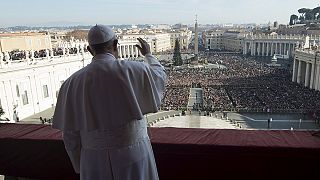 In St Peter's Square in Rome, in the presence of some 10,000 faithful gathered before the Basilica, Pope Francis has delivered his traditional address, Urbi et Orbi, which means "to the City [of Rome] and to the World," in Latin.
"May blessings in abundance reward those, whether individuals or countries, who welcome or help migrants and refugees with generosity."
The leader of the worldwide Catholic Church prayed for the suffering from conflicts in Syria and Libya to end swiftly, as well in sub-Saharan Africa, the Middle East and Ukraine.
Francis also invoked God's will to return hope to the many unemployed, on "this day of festivity"; he called it a day of mercy and light, of great joy for the poor.
He condemned terrorism, noting the attacks in Paris last month. Hours earlier, at midnight mass, he had exhorted the some one billion Catholics around the world to seek out the meaning of justice and sobriety.