Greek and Turkish Cypriot leaders make historic joint appeal for reunification
Comments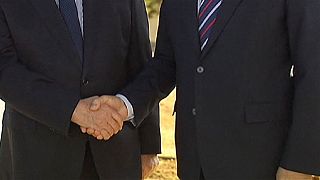 For the first time ever the leaders of the Greek Cypriot and Turkish Cypriot communities have delivered a joint televised message for Christmas.
They spoke initially in their own languages and then in each others to express their hopes for peace in a reunited country.
The Turkish Cypriot leader Mustafa Akinci said he wished a prosperous New Year and permanent peace to all Cypriots.
Sentiments shared by President of Cyprus Nicos Anastasiades who said he wanted Greek and Turkish Cypriots to live in harmony side by side in a peaceful, reunified homeland.
Local reports say the two men will meet at least three times in January.
For more than seven months, talks have ongoing over reuniting the divided island.