Turkish pro-Kurd politician criticises Ankara during Russia visit
Comments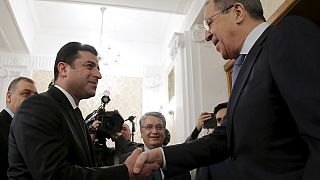 Russia says it is ready to work closely with ethnic Kurds to fight the self-proclaimed Islamic State.
It came as Selahattin Demirtas, leader of a pro-Kurdish opposition party in Turkey, met Russian Foreign Minister Sergei Lavrov in Moscow.
The talks are likely to unsettle Ankara – amid strained relations over the downing of a Russian warplane last month.
"We are aware that Iraqi and Syrian Kurds are withstanding, with arms in their hands, the threats from the Islamic State and other extremist groups. We will be interested in your opinions when it comes to our future work," said Lavrov.
Demirtas criticised Ankara for the shooting down of the warplane. Russia imposed economic sanctions on Turkey after it happened.
"We have spoken openly and we have criticised the government's actions, when the Russian warplane was downed," said Demirtas.
On Tuesday, Turkish police fired tear gas to disperse several hundred protesters demonstrating against security operations and curfews in the country's mainly Kurdish southeast.
Demirtas' party is accused of having connections with armed Kurdish rebels fighting in the area.