Alarm over Kurdish civilian casualties in operation Turkey says is targeting militants
Comments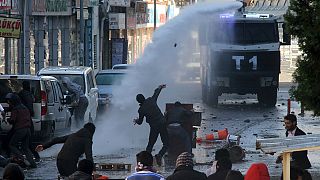 Kurdish groups are sounding the alarm over rising civilian casualties as the Turkish army intensifies a large-scale operation it says is targeting militants in the country's southeast.
We stand by our people who resist the tanks and shelling
Tanks have been filmed pounding positions in the town of Cizre, where residents have been under a curfew for weeks and where basic supplies are running low.
Tens of thousands have fled their homes in numerous locations where the operation is taking place.
The Turkish government says close to 130 PKK Kurdish militants have been killed in the operation so far, but it does not talk about civilian casualties.
Kurdish groups say many innocent residents have been killed, with at least 23 in the town of Cizre alone.
Some seven soldiers and police have also been killed.
People have taken to the streets to demonstrate against the ongoing military operation and the crippling curfews that have been imposed.
Thousands of soldiers and police backed up by tanks and armoured vehicles are taking part in the operation, which is mainly focused on the towns of Cizre and Silopi, close to the borders with Iraq and Syria.
A ceasefire that lasted for two years between the government and the PKK (the Kurdistan Workers Party) fell apart over the summer.
The government maintains its operation is necessary and is vowing not to back down in its fight against the PKK.
But Selahattin Demirtas, the co-leader of the pro-Kurdish People's Democratic Party (HDP), told reporters that ordinary residents were being presented as terrorists.
"We stand by our people who resist the tanks and shelling," he said.
He has left for a visit to Moscow, a trip slammed by Turkish Prime Minister Ahmet Davutoglu.
Islamist Kurdish party Huda-Par, which is usually seen as sympathetic to the ruling AK Party, said soldiers were taking up positions inside civilian homes.
"Due to the curfew our members and their families can not leave their house and move to a safer place and therefore have become targets for bullets," the party said in a statement.
"There are no limits – There is no law." Civilian deaths in #Turkey's fight against #Kurds: https://t.co/5EMJH4Pxpfpic.twitter.com/SGMP50rX9X

— carrollbogert (@carrollbogert) December 22, 2015
"We could be killed at any moment" An eyewitness account from Cizre BBC</a> <a href="https://t.co/zGdUeK8Uaa">https://t.co/zGdUeK8Uaa</a> <a href="https://twitter.com/hashtag/Kurds?src=hash">#Kurds</a> <a href="https://twitter.com/hashtag/Turkey?src=hash">#Turkey</a></p>&mdash; Güney Yıldız (guneyyildiz) December 22, 2015
Beyond words…. #Turkey#Kurdshttps://t.co/jDAFZ7FKNt

— Amberin Zaman (@amberinzaman) December 21, 2015
'Russia smashing #Daesh while #Turkey attacks us' – #Syria's Kurdish commander https://t.co/lxNlLdOHs1#Kurdspic.twitter.com/KcfGlWsRDD

— Sputnik (@SputnikInt) December 18, 2015