Shenzhen survivor rescued after 67 hours under rubble
Comments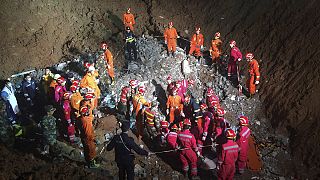 A man has been found alive 67 hours after a waste heap collapsed on an industrial estate in the Chinese city of Shenzhen. More than 70 others are still missing.
Nineteen-year-old migrant worker Tian Zeming reportedly told his rescuers that another survivor was close by. The rescuers found a dead body but haven't confirmed the identity of the victim.
Firefighters had to squeeze into a small room around Tian and pull debris out by hand, one rescuer told China's official state news agency Xinhua.
Xinhua reported that Tian's legs were crushed but said he has had surgery and is in a stable condition.
A massive mudslide from an overfill dump site buried 33 buildings in the estate on Sunday. The disaster came just four months after 160 people were killed in a massive chemical blast in the port city of Tianjin.