Scores buried as mudslide engulfs buildings in China
Comments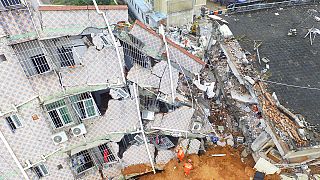 Mud and construction waste has engulfed part of a town in southern China.
The deadly flow came from a dumping site in Shenzhen that had been overfilled.
33 buildings have been submerged.
Update: 4 people rescued and 22 others still missing in #Shenzhen#landslidepic.twitter.com/raoOZJk7Fh

— China Xinhua News (@XHNews) December 20, 2015
7 people have been rescued, 85 remain missing after the landslide that buried 33 buildings in #Shenzhen Sun pic.twitter.com/4fHz0xuloW

— People's Daily,China (@PDChina) December 21, 2015
Rescue operation
At least 91 people are thought to be missing.
Thousands of emergency workers are at the scene. The digging stops and they shout to see if there are any survivors who answer.
#China – Rescue workers look for survivors after landslide hit industrial park in Shenzhen. By johaynz</a> <a href="https://twitter.com/hashtag/AFP?src=hash">#AFP</a> <a href="https://t.co/n6gt0Sd2jn">pic.twitter.com/n6gt0Sd2jn</a></p>&mdash; AFP Photo Department (AFPphoto) December 21, 2015
#Landslide rescue underway in #Shenzhen.
https://t.co/6ZwF8bcA9apic.twitter.com/xwfZV3dRCK

— China.org.cn (@chinaorgcn) December 21, 2015
Angry relatives
The site should have been closed down in February. However, local people say mud and waste continued to be dumped there.
"Heavy rain and a hillside collapsing are natural disasters, he says. But this was not a natural disaster, this was man-made", one man told reporters.
"If the government had taken proper precautions in the first place, we would not have had this problem. We have been down this road before, this is madness." said another.
An official investigation has been launched.