French man who decapitated his boss found dead in prison
Comments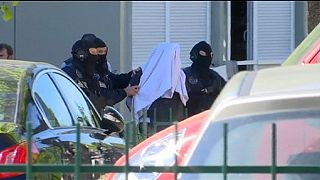 A man accused of decapitating his boss and trying to blow up a gas plant in France has been found dead in prison.
Authorities say 35-year-old Yassin Salhi hanged himself with sheets tied to the bars of his cell window.
He was in solitary confinement but had not been considered a suicide risk.
Terrorist attack at Air Products in Lyon, France #breakingpic.twitter.com/xt1wbRZryh

— Pigeon Today (@PigeonToday) June 26, 2015
French security and emergency services near the Air Products factory outside Lyon, France, on Friday. 1/n pic.twitter.com/OADB2sXQfm

— Karthik (@karaikudy) June 26, 2015
Salhi drove his delivery van into a building at the factory near Lyon.
The decapitated body of his boss was found nearby.
Investigators considered Salhi to be a militant Islamist.
He maintained, however, that he was motivated by a grudge against his employer.