Russia open to cooperation with Europe
Comments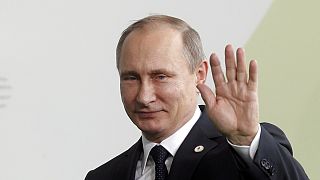 President Vladimir Putin says he is ready and willing to cooperate with Europe and other countries on matters of security, economy and politics.
He made his comments in a documentary aired on the Russian state TV channel RTR.
His stated willingness to work with others came despite criticisms he made he made about Europe's relationship with the United States.
"It seems to me, and if I'm wrong about this someone should tell me, that European countries are interested in working with Russia in economic and political matters as well as the fight against terrorism, resolving environmental problems and tackling organised crime. We're ready for this work."
On Monday the European Union is due to decide whether to renew sanctions on Russia in the energy, banking and defence sectors until the end of July 2016.
Relations between the West and Moscow have been strained recently over Russia's actions in Ukraine and its support for Syria's President Bashar al-Assad.