Jansrud wins inaugural Parallel Giant Slalom
Comments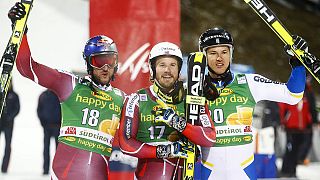 Kjetil Jansrud won the Alpine skiing world cup's inaugural Parallel Giant Slalom race on Monday to cap off Norway's strong showing in Alta Badia, Italy.
In the final of the event Jansrud held off a strong challenge by compatriot Aksel Lund Svindal.
The result handed Norway an eighth podium during the last four days of races in Italy.
The new head-to-head racing format was a huge success receiving rave reviews from competitors and fans alike.
Under the flood lights Jansrud beat Svindal by 0.22 seconds in the final run.
The last step of the podium went to Andre Myhrer.
The Swedish skier beat Dominik Schwaiger of Germany for third.
After a short festive break, the men's world cup circuit resumes with a downhill in Santa Caterina Valvurva on December 29.