FIFA - how the house of cards started to collapse
Comments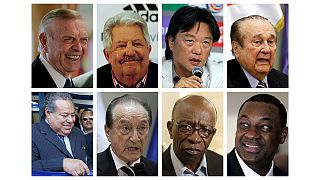 The foundations at Fifa started to crumble back in May.
The who's who of the FIFA hierarchy had gathered in Zurich for the 65th annual congress and the presidential elections.
Swiss authorities acting on behalf of the US Justice Department took this opportunity to conduct dawn raids which led to the arrest of several Fifa executives on corruption charges.
In a testimony published by the United States Department of Justice Former CONCACAF official Chuck Blazer admitted that he and others took bribes for South Africa to host the 2010 World Cup.
It later emerged that Blazer was working undercover for the FBI for 18 months while on FIFA's executive committee.
The scandals were getting closer to the top of the organisation.
Secretary General Jerome Valcke was suspended after allegations he was implicated in a ticketing scandal while throughout 2015 a whole host of top-ranking FIFA officials would be indicted by the US on charges of "rampant, systemic, and deep-rooted" corruption.
Some have been extradited to the US to stand trial.
An initial investigation into the controversial bidding process for the Russia 2018 and Qatar 2022 World Cups five years ago, was later broadened to cover FIFA's dodgy dealings going back two decades.
Graft investigations eventually reached the summit of the organisation and President Sepp Blatter as well as his once likely successor Michel Platini.
Both were suspended for 90 days amid an investigation for into an alleged disloyal payment and later banned for eight years by the body's independent ethics committee – a committee that ironically Blatter played a major role in setting up to help tackle corruption within the organisation.