More than 100 Kurdish 'militants' killed in fighting in Turkey's southeast
Comments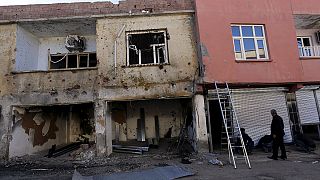 Turkey says more than 100 Kurds described as militants have died in fighting in recent days in the country's southeast.
Two Turkish soldiers are also known to have been killed.
Curfews have been imposed in numerous towns as government forces battle insurgents.
The Turkish Prime Minister is vowing not to back down in the fight against the Kurdistan Workers Party or PKK.
"Our citizens can rest assured," said Ahmet Davutoglu.
"Turkey will not take a step back from laws, justice and democracy.
"Terror is the enemy of life and the government's duty is to protect people's lives. It is our main duty to protect people's right to live."
Clashes have also broken out as people protest against the ongoing security operations targeting Kurdish militants.
Local media say the operations involve 10,000 police and soldiers backed up with tanks.
A two-year ceasefire between the PKK and the government fell apart over the summer.