Ethiopia: dozens of protesters killed by security forces, claims Human Rights Watch
Comments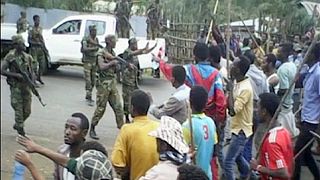 At least 75 people have been killed during weeks of protests in Ethiopia.
That's according to Human Rights Watch (HRW), which says soldiers and police have been firing on demonstrators.
Students have been venting their anger over government proposals to take over take over territory in the Oromia region.
There are fears that Addis Ababa will grab land that has traditionally been occupied by the Oromo people, the country's largest ethnic group.
"Police and military forces have fired on demonstrations, killing at least 75 protesters and wounding many others, according to activists," HRW said in a statement.
The government has not responded to the Human Rights Watch claims, but has previously put the death toll at five.