Burundi's government criticises African Union plan to send in peace-keepers
Comments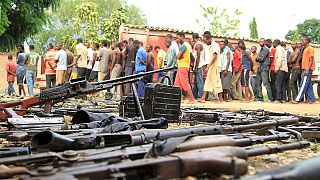 The government of Burundian President Pierre Nkurunziza has reportedly said that it will not allow foreign troops across its borders.
It comes after the African Union revealed that it was preparing to send five thousand peace keepers to the Central African country to protect civilians.
Deadly violence has pushed Burundi close to civil war.
It was triggered in April when Nkurunziza announced plans for a third term in office. Protests followed and later a failed military coup.
Gunmen recently attacked military sites in the capital Bujumbura. Nearly 90 people were killed.
Uganda has announced that it will resume mediating peace talks later this month. Burundi says it welcomes the move, but it will not negotiate with anyone it accuses of being behind the attempted coup.