A family day in ski jumping for Peter and Domen Prevc
Comments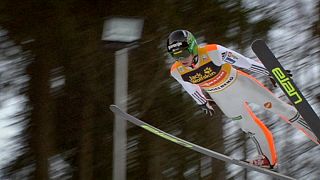 The podium in Engleberg created a day of records. in ski jumping. It was Peter Prevc who took the win in the first individual competition. His best jump was 139.5 metres and he topped the podium with 297.1 points.
"The first jump was really great and I was very satisfied with it," adding it was a great day for his family as he and his younger brother celebrated the first double victory of brothers in the ski jumping World Cup.
At sixteen years of age Domen joined Peter on the podium in Switzerland in second place – his first such finish with a best jump of 133.5 metres, scoring 283.5 points.
"I didn't expect such a good result. I thought that I might have problems jumping in this high altitude, but I had two good jumps," he said not forgetting some praise for big brother. "Peter is an inspiration for me," he declared.
The record books were re-written too by Noriaki Kasai. He scored 273.5 points with his best jump – his second – 134 metres.
Remarkably he was lying back in 12th after the first round. He now becomes the oldest jumper to finish on the podium where he said he would like to be in all four competitions.