Unemployment in Spain: a life without hope?
Comments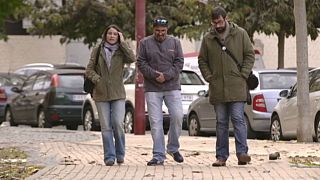 Jerez de la Frontera – where more than 1 in 3 is out of work
Every day is a challenge for 27-year-old Miguel Angel Vaca Fernandez, as he strives to keep his head up and rise above his circumstances.
He is one of a huge number of unemployed young people in the city of Jerez de la Frontera, in the Andalusia region in southern Spain.
The overall jobless rate in this city is at a huge 40 percent.
Behind that dramatic statistic are the individuals, like Miguel Angel, who every day are facing the challenges created by longterm unemployment.
"I've been unemployed for three and a half years. It's a truly hopeless situation, you start believing, 'that's all, that's life'. You keep muddling through," he says.
"There are days you don't want to get out of bed. Then there are other days you get up with some small hope, but it's just for nothing, it's desperate."
Miguel Angel is training for the police entrance exams. Competition so tough that this year 58,000 people applied for 1,300 available police jobs.
Concerns about a lost generation in Spain are something Miguel Angel knows about all too well.
He says: "I think about it and my parents remind me of the fact that they brought me into this world when they were even younger than I am today. I think about it and it hurts. I would like to have a family too, build a house, live with a wife and children. But without a stable job that's impossible."
Spain's long road to recovery
Some growth has returned to the long stagnant Spanish economy, but the level of unemployment is declining very slowly.
Unemployment in the Extremadura region is at 29 percent, in Andalusia at 32 percent.
In Jerez, some 34,000 people are living without work.
When the regional administration of Andalusia advertised 69 full-time job roles this year, it led more than 23,000 applications.
Taking the initiative, but under no illusions
Miguel Angel's sister Maribel, 30, is unemployed too.
She studied tourism and had a job at Jerez airport for a while. But despite being well-qualified, she has not been employed for four years.
She is part of the Facebook Group 'Working in Jerez', set up to help locals find work, and she puts a lot into it too.
Maribel says: "Usually, what I do first is I open my e-mail account to check if any job opportunities have come in that I can share with the Facebook group. Then afterwards, I check different websites and internet platforms for jobsearchers and sometimes I find some more offers that I can share."
Jose Ramon Torrejoyanca, an artist and designer, launched the Facebook group three years ago.
When he moved to Jerez he saw that local jobs were mostly being communicated by word-of-mouth. With social media so widely used, he decided to take to Facebook.
The 'Working in Jerez' group page took off very quickly and today has close to 9,000 members.
'No money left for investment'
Jose Ramon believes that the dire employment situation in Jerez and surrounding areas partly "comes from way back."
"It's been very common around here for authorities to distribute assistance, to opt for state protectionism. It's always easier to hand out fish – than to teach people to fish, or to give them the tools to catch fish themselves," he says.
Radio journalist Ana Huguet believes the problem began with the policies of the former Spanish dictator Franco, which accelerated the industrialisation of the North of Spain while neglecting the South.
Then, when democratisation was ushered in after Franco's death, local politicians discovered the joys of easy money.
"When a city mayor is spending public money, in the millions, on a pharaonic project that is never realised, never completed – of course this is consuming money that is lacking elsewhere to foster sustainable development of the employment situation," Huguet says.
She adds that Jerez's municipal government has debts of around 1 billion euros. "So there's no money left for investment."
Desperate times call for desperate measures
Maribel and Jose Ramon meet up with Manuel Pena Molina, a jobless car painter, who is also a member of the Facebook Group.
"I want to reassure myself that I'm a full, complete person. Being without work, I don't feel recognised. The longer I am unemployed, the weaker I feel. It's a feeling of being worthless," Manuel says.
The Facebook page can be useful, but most of the available jobs, such as cleaning, are short-term and underpaid.
The friends try to stay positive, but are under no illusions.
"Sometimes people think that I am not just part of the Facebook group – they think that I'm an employer, so they send me their CVs. But I'm just sharing job opportunities that I've found. Some of the CVs are really not well formulated, some people don't know how to write a CV properly," says Maribel.
"So quite often, voluntarily, I help them out by correcting or re-writing their resumes properly and sending the revised version back to them."
In Cadiz, the Andalusian province in which Jerez is located, it's estimated that 30 percent of economic activity is conducted off the books – ie. undeclared, so no taxes are paid.
"Well, yes, there is quite a bit of undeclared work going on around here, even a lot. Everybody knows about it, of course. Here in Andalusia, illicit employment is quite common and wide-spread," Manuel admits. "That's the way it is, around here."
Coming together
Despite the employment crisis, Jerez is rich in community spirit.
Many residents are members of one of the city's 43 traditional 'hermandad' religious associations, which bring together people from all sections of society.
Miguel Angel is part of the Sagrada Lanza association, which Euronews visits on a day that members are preparing food for people in need.
"Together with all the food we collect, we are able to support those eight families in need, who we've been helping all year long," says Sagrada Lanza President Carlos Ruiz Becerra.
Unemployed construction worker Manuel Ferreira Cordero is also a member.
"People do help by giving food, even when they are, themselves, sometimes in need. Poor people help too, with at least a kilo of food. Everyone helps because they know it's for a good cause."
Miguel Angel says: "Spending time with the association helps me to disconnect from my personal problems, to stop thinking constantly about by unemployment and the life I can't live because I have no job. This group of friends gives me the strength I need to keep going, trying new projects."
Solidarity in the community goes a long way.
But it will be largely the role of the authorities, on regional, national and European level, to introduce cohesive strategies and generate the huge level of investment required to bring Jerez's long-suffering job market back to life.