Spain must take constitutional reform by the horns
Comments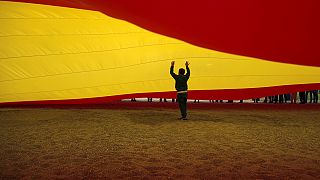 The Spanish constitution is now in its 38th year, the 6th Dec. anniversary coinciding with campaigning for the general elections on the 20th. Spain has an institutional crisis on its hands involving reform of the law on how the rights and responsibilities of its component autonomous regions work with the whole.
In 1978 it wasn't possible to provide answers to questions that have become problematic today, notably that of territoriality.
The Congress of Deputies lower chamber of parliament's open house day gave us the opportunity to talk to a professor in constitutional law, Antonio Arroyo Gil. He sketches out very clearly the aspects of reform which proponents judge highly necessary.
The portraits of the fathers of the 1978 constitution—there are no women—is our backdrop. These men negotiated a roadmap that would help the country transition away from the defunct dictatorship of Franco, to democracy. Is it still valid?
Antonio Arroyo Gil: "I don't think the 1978 constitution is obsolete. It is quite a modern text. It was very advanced for its time. Its protection of rights makes it one of the most progressive, compared to others around it. However, it's true that in 1978 it wasn't possible to provide answers to questions that have become problematic today, notably that of territoriality."
The challenge of Catalonia wanting to secede highlights the limits of the decentralisation model of Spain, which transferred many powers of the federal state to the regions, known as the Autonomous Communities.
Arroyo Gil said: "I believe there must be a major public debate started on this, because an important territorial crisis has arisen. This is not only to provide a response to the Catalan question; there are questions in the constitution that are not well resolved: turning the senate into a truly representative chamber, the way public power is shared, jurisdictions allotted to the central government and the Autonomous Communities, how financing is organised. The fundamental principles of inter-territorial solidarity and fiscal joint responsibility must be established."
After King Juan Carlos abdicated in favour of his son Felipe, the Spanish monarchy seemed to retrieve some of its popularity, and yet on the secessionist challenge posed by Catalonia, there was silence, the crown took no role in the matter.
Arroyo Gil: "The crown did not and should not [take such a role], as I see it. It is a symbol of state unity, as the constitution says, and in this sense the monarch must exercise his authority with discretion, as he is doing. He issued some messages, I believe, to make clear not the position of the crown but the institution it represents, which cannot be other than to defend the unity of the state."
What will the first duties be of the next head of the Spanish government to come out of the 20th December elections?
Arroyo Gil: "I believe that the future prime minister should take into account that there is a serious territorial problem, and not shy away from it but lead the process, convene all the political forces, to see if there is a consensus to achieve constitutional reform, to send a very clear message to the people of Catalonia, who consider that the centralised state, and the government especially, have not paid attention to the ill feeling that exists there."
Our correspondent Francisco Fuentes summed up: "Constitutional reform is one of the big subjects that Spanish democracy has not addressed, reform which a new cross-section of men and women elected to parliament will need to approve."