Svindal leads Norwegian clean sweep in Val Gardena
Comments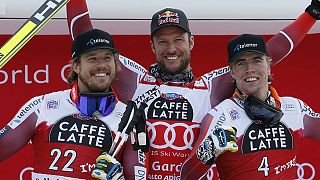 Aksel Lund Svindal led a Norwegian clean sweep of the podium in Friday's super-G at Val Gardena Italy.
The five-time overall World Cup winner of the discipline, who was sidelined for the better part of last season with an Archilles injury, celebrated a record fourth victory on this course.
He tamed the bottom section of the piste to clock a winning time of 1 minute, 28.12 seconds.
It the fourth success of the season for Svindal who cemented his place at the top of the discipline standings.
Svindal, who moved within 23 points of overall world cup leader Marcel Hirscher, beat teammate Kjetil Jansrud into second place on the day.
Jansrud won this race last year but couldn't repeat the feat and had to settle for the second step of the podium 0.34 seconds off the pace.
Completing Norway's first ever sweep of the Super-G podium was 23-year-old Aleksander Aamodt Kilde.
Kilde held the early lead before his better-known compatriots came down faster to leave him 0.44 seconds back.
It was his first podium finish.