Police in Peru raid and destroy illegal Amazonian gold mines
Comments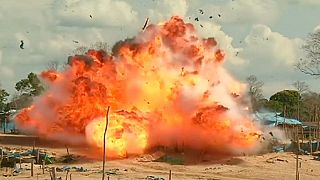 Peruvian police have destroyed dozens of illegal gold mining camps close to the Amazonian nature reserve.

Peru raids illegal gold mines #videohttp://t.co/2eb23BEc9Ipic.twitter.com/XG8OubdtyQ

— WordLink #VIDEO (@WordLinkVIDEO) July 17, 2015
Police and the military were involved in the operation to destroy 86 illegal mines.

The New Yorker takes us into the illegal gold mines of Peru. What a rush. http://t.co/tt7AfK8V91pic.twitter.com/uPLSbcTynt

— Aleszu Bajak (@aleszubajak) May 7, 2015
The plan is to put an end to the wildcat mining, which has seen 50,000 hectares of precious Amazonian land destroyed.
Colonel Cesar Sierra stressed the environmental benefits of the crackdown: "One of the greatest threats to earth is environmental devastation. One of the activities that is most harmful to the environment, is illegal mining activities, because of the use of mercury and other dangerous chemicals."
Hundreds of miners could be seen fleeing as authorities moved in on the camps.
One stricken mother said work is hard to come by in Peru:"The government doesn't give us work, so we have to risk our lives here, running the risk of being killed or raped or burned. There is no justice here, but that is how we work, how we struggle to make a living."

Photographing the Women of Peru's Illegal Gold Mines http://t.co/DyMmRAWnEfpic.twitter.com/DaloRl0MEb

— VICE (@VICE) July 14, 2015
Police have also cracked down on the nightclubs and other business that feed on profit and help finance the ramshackle industry.