No money for Moscow as Ukraine refuses to repay $3bn to Russia
Comments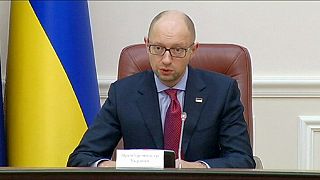 Ukraine says it will not repay the $3bn debt owned by Russia due this weekend.
Kyiv claims Moscow has refused to discuss restructuring proposals.

Russia to sue #Ukraine if debt is not repaid by December 20 https://t.co/Tyt8T77b53pic.twitter.com/nkjV5VcYql

— UKRAINE TODAY (@uatodaytv) December 5, 2015
Ukraine expects Russia to initiate legal proceedings.
Ukrainian Prime Minister Arseny Yatseniuk made the announcement:"Starting from today, payments of these debts which amount to $3,582bn to Russia is suspended until either the acceptance of our restructuring proposals or the adoption of the relevant court decision."

#Ukraine's $bln Eurobond debt to Russia 'a rope around its neck' https://t.co/eWg3D7VEdz#UkraineDebtpic.twitter.com/n9E0AhydsF

— Sputnik (@SputnikInt) November 22, 2015
The Kremlin has said it will suspend a trade pact with Kyiv which will exclude Ukraine from from the free market that includes former Soviet states in the new year.
Relations between Russia and Ukraine are at rock bottom following Russia's annexation of Crimea.
==
Russia will go to court if Ukraine does not pay the debt

Russia has no other choice but to https://t.co/r9m0wQdcnnpic.twitter.com/6NuUxDIxn7

— Богдан Бойко (boykob) <a href="https://twitter.com/boykob/status/673264366028988418">December 5, 2015</a></blockquote> <script async src="//platform.twitter.com/widgets.js" charset="utf-8"></script> Ukraine has also accused Moscow of supplying separatists in eastern Ukraine, allegations Russia continues to deny. <blockquote class="twitter-tweet"tw-align-center lang="en"><p lang="en" dir="ltr">Putin says Russia did have personnel in eastern Ukraine carrying out &#39;certain tasks&#39;: <a href="https://t.co/os5GMqvzeD">https://t.co/os5GMqvzeD</a> <a href="https://t.co/x4JRGfVkf3">pic.twitter.com/x4JRGfVkf3</a></p>&mdash; Reuters Top News (Reuters) December 17, 2015
==
Swallow's Nest Castle, Crimea, Ukraine #ttot#travelpic.twitter.com/UR5F3kxodR

— Yishai Mullins (@YishaiMullins) December 18, 2015