Turkey's downing of Russian plane 'a hostile act' says Putin
Comments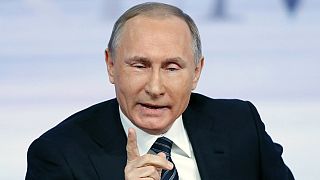 Russian president Vladimir Putin has responded to questions form reporters about last month's downing of a Russian plane by Turkey.
He said Russia sees the action of the Turkish authorities towards our plane, "as a hostile act."
He said it is hard for us to reach agreement with the Turkish leadership, if at all possible.
"If this was really a tragic accident – as we heard later, they didn't know it was a Russian plane – what's the normal thing to do? Our people were dead, after all… You pick up the phone and explain yourself. Instead, they ran to Brussels, asking to protect them… We didn't even touch you," said Putin.
Speaking at his annual news conference about Syria, Putin asked: "What have they achieved? Maybe they thought we would run away from there, but Russia is not such a country."
He said, "we believe that only the Syrian people can decide who should govern them .. We support the initiative of the United States about the UN resolution," he said.