Stars and fans invade London for the premiere of The Force Awakens
Comments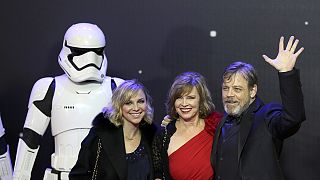 London went Star Wars crazy as the full cast turned out on the red carpet for the European premiere of The Force Awakens.
Simon Pegg, Gwendoline Christie and Harrison Ford rubbed shoulders with Ewoks, Yoda and fans bearing lightsabers as thousands descended on the capital's Leicester square for the spectacle.
Christie, who plays Captain Phasma, said: "I'm so privileged of both projects, Game of Thrones and Star Wars, to be part of such great writing and great filmmaking; and as an actor, it's unusual to be in something that people watch yet alone love."
"It was literally a dream come true, I mean I can't say any fairer than that," said Simon Pegg, the film's Unker Plutt character.
"To be part of something that meant so much to me as a youngster, to find myself become part of the story in a Star Wars figure and all that, it's bananas."
Darth Vader made a special guest appearance when he led a procession on the carpet followed by a group of stormtroopers and Jedi knights.
This guy. Having a bit of fun at #StarWars: #TheForceAwakens European premiere in London. pic.twitter.com/l8CJGFps84

— Star Wars (@starwars) December 16, 2015
Bravo London. Bravo. Turning nelsons column into a light sabre. #StarWarspic.twitter.com/4meidPdLjK

— Darren Bell (@darren_bell) December 16, 2015