EU opens school for Syrian refugee children in Turkey
Comments
By
Euronews
with
Bora Bayraktar, UNICEF, Human Rights Watch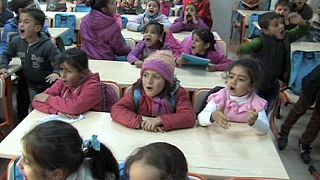 Now in its fifth year, the conflict in Syria has become the worst humanitarian crisis since the Second World War, aid agencies report.
According to the United Nations, more than four million people have fled the crisis; over half of them to Turkey.
In the southern town of Sanliurfa, a new school has been opened for refugee children. The My Life school was founded by the European Union and is run by the United Nations' children's charity UNICEF in partnership with Refugee Education Trust.
"Syrians are people that lay great store by education and we sympathise very much with that. We don't want this generation that had to flee from their homes to suffer years and years without making progress on their personal education. We want them to be able to make careers in life and this is the necessary basis," Hansjörg Haber, the EU Ambassador to Turkey, explained.
In addition to mainstream education, the mostly-female students are offered psychological support and life-skill training.
Philippe Duamelle, UNICEF's Representative in Turkey said:
"Experience has shown that girls and female adolescents and youth have particular needs for protection. Usually their are more exposed to gender-based violence or gender based abuses and exploitation."
Of the Syrian children registered in Turkey, 746,000 are of school age. However, currently just over 60 percent are receiving an education.