Cuban baseball stars return home for goodwill tour
Comments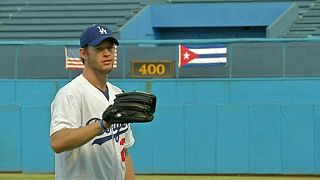 A group of Major League Baseball players and executives took advantage of improving diplomatic relations between the US and Cuba to visit the island and conduct a series of baseball clinics for kids.
Among the players on the Goodwill Tour were Cuban defectors Jose Abreu and Yasiel Puig who were given permission by the government to return to their homeland for the first time since leaving illegally.
Chicago White Sox player Abreu said: "I'm Very pleased and very grateful for the opportunity we have been given and wholeheartedly thank all those who in one way or another have helped us to return to our country again."
The session at the Latinoamericano Stadium in Havana was a huge success with children keen to learn more from their idols in this rare occurrence.
Most of the kids were not even born the last time the MLB visited Cuban shores for an exhibition game in 1999.
Hopefully they won't be too old to partake when the next one comes around.