Angela Merkel praised by CSU leader at conference
Comments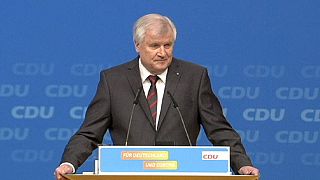 The refugee crisis has split political and popular opinion in Germany. As the number of refugees in the country approaches the one million mark politicians from Angela Merkel's CDU and its conservative sister party the CSU from Bavaria sought to draw a line under their differences.
On the last day of their conference there was a praise for Merkel but also a cautionary note from the leader of the CSU.
"There is no country in the world that can take in refugees without limits – and Germany won't manage this in the long-run either," Horst Seehofer told delegates.
The leader had inflamed tensions within the conservatives last month when he criticised the chancellor for failing to cap the influx of migrants. Political analysts said the speech left Merkel reeling.
But on Monday she received an eight minute standing ovation and plaudits from media commentators after her speech at the conference.
Most of the refugees arrive in Bavaria where the CSU leader has been under pressure to press the federal government to stem the flow of arrivals.