Germany to 'noticeably reduce' migrant influx, says Merkel
Comments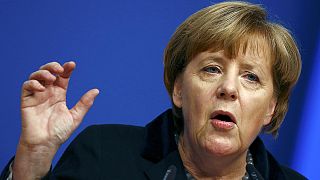 The German chancellor has promised to "noticeably reduce" the number of migrants entering Germany.
Angela Merkel was speaking at the congress for her Christian Democrats party in response to concerns from within her party about an influx this year alone of one million refugees.
"The spirit with which we need to tackle the refugee crisis: we have achieved so much, we will continue to make this work.. also because the essence of the Christian Democrats is to show how we deal with difficult situations," Merkel said.
Despite being widely praised for her bold response to the crisis, Merkel faces growing opposition to her open-door policy,
"We want to and we will noticeably reduce the number of refugees because it's in everyone's interest," added Merkel.
Her use of the phrase "noticeably reduce" is from a party resolution which was hastily reworked on the eve of the conference to avert an open rebellion over her refugee policy.