Hitting where it hurts: Russia and Turkey disagree over the impact of sanctions
Comments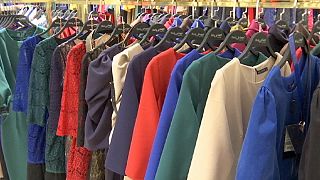 Fresh produce, textiles and tourist industry reportedly suffering
Dispute prompted by downing of Su-24 military jet and death of pilot
Turkish president downplays impact of Russian restrictions
#Syria will export 700,000 tons of citrus fruit to #Russia & other goods after #Moscow imposed sanctions on #Ankarapic.twitter.com/avK2r9uEbr

— IraqiSuryani (@IraqiSuryani1) 9 Décembre 2015
Moscow is warning the array of economic sanctions it has imposed on Turkish goods and services following the downing of one of its military jets will cost Ankara billions of euros in lost revenue.
Fresh produce is reportedly being sourced from other countries, including Syria.
What do consumers say?
On a trip to Istanbul, Russian clothing buyer Liza Krol described the economic outlook between the two countries as "uncertain".
"It is not clear how things will turn out, or if there will even be any business next year."
What does the Turkish business community say?
topkapimh</a>:<a href="https://twitter.com/akpartifatih_">akpartifatih_AhmetHamdiGork</a> <a href="https://twitter.com/mybalik">mybalik#lasiad Derneği'nde ilçe başk konuşması #BirlikteDahaGüçlüpic.twitter.com/F69KtuKJbp

— Topkapı Mahallesi (@topkapimh) 24 Mai 2015
Turkish business associations say it is too early to quantify the financial impact but anecdotally, trade is definitely said to be suffering.
"One of the first things Russia said was: 'Don't go to Turkey, don't buy anything from Turkey.' And, as a result, the customers who came here stopped coming and have begun to cancel their trips. And that was a significant amount of income. It may be retail sales, but it was significant." said Giyasettin Eyyupkoca, chairperson of the Laleli Industrialists and Businessmen Association.
What does Turkey say?
Turkish president: #Turkey will find alternative energy suppliers other than #Russiahttps://t.co/CCvFAqnwQXpic.twitter.com/GwIw848ktF

— China Xinhua News (@XHNews) 5 Décembre 2015
Turkish President Recep Tayyip Erdogan has downplayed the impact of sanctions on the Turkish economy.
"Now we see the impact in textiles and those products the Russians say they are not buying. These are very emotional things. Although Russia may buy a one billion dollars worth of imports, Turkey is not a country that will collapse if our exports cease. Who cares whether you buy Turkish products or not? Funds will come through other avenues," President Erdogan said earlier in December.
Why have relations soured?
Ankara to return pilot's body to Moscow as Kremlin slaps economic sanctions on Turkey https://t.co/oT9wmnKeUHpic.twitter.com/szfowBnZKP

— China Xinhua News (@XHNews) 29 Novembre 2015
In November a Russian Su-24 military plane was downed an air-to-air missile from a Turkish F-16 interceptor near the Turkish-Syrian border.
The pilot was killed.
Ankara says the aircraft was in violation of its airspace, a claim Russia denies.