Montenegro protesters oppose NATO membership
Comments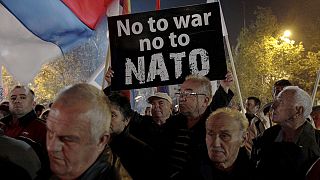 "No to NATO" was the message coming out of a demonstration in Montenegro.
The protest – attended by around 2,000 people – was called by pro-Russian opposition parties, after the country was invited to join the security alliance.
Demonstrators are calling for a referendum.
The Adriatic country of just over 600,000 people is split over NATO membership because of traditionally close ties to Russia and because NATO bombed the country during the Kosovo war in 1999 – while Montenegro was still part of a union with Serbia.
Protesters carried banners reading "NATO killers!" and "You Are Not Welcome Here."