Syrian opposition to meet government for peace talks in January
Comments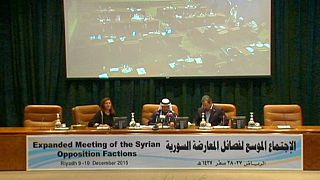 Peace talks will be held next month between the Syrian government and a joint team of political and armed rebel groups.
The move was decided after two days of talks at a Saudi hosted opposition conference.
The final hours of the meeting, which excluded Islamic State and Nusra Front fighters, were overshadowed by a protest by another powerful insurgent group, Ahrar al-Sham.
But the talks chairman played down their demonstration and stressed the importance of the first such meeting in two years aimed at ending the bloody civil war. The gathering will discuss moving into a transitional period.
A statement released at the end of the conference also emphasised that Syrian President Bashar al-Assad must leave power.
The Riyadh meeting called on the United Nations to pressure the Syrian government to make a series of confidence-building moves before peace talks start, including suspending death sentences against opponents, releasing prisoners and lifting sieges.