Geneva raises alert level as police reportedly hunt terror suspects
Comments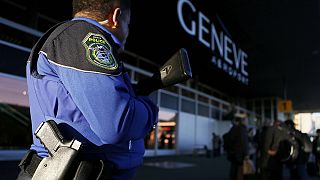 The Swiss city of Geneva has raised its alert level amid reports that it is looking for suspects with possible links to terrorism.
At least four people, believed to have been plotting a specific attack in the city, are being sought, according to one official.
Security was heightened at the United Nations (UN) headquarters and the Russian diplomatic mission in Geneva on Thursday.
Much of Europe is on heightened alert following the attacks in Paris.
The Swiss attorney-general said it had opened a criminal inquiry on the basis of a "terrorist threat in Geneva" against unknown persons suspected of belonging to a criminal organisation and of violating a ban on al-Qaeda or so-called Islamic State operating in the country.
The Geneva daily, Le Temps, reported that a friend of Salah Abdeslam, the latter wanted in connection with the Paris attacks, was in a van spotted by Geneva police on Tuesday after a tip from French authorities that the two men in the vehicle were strongly suspected of ties to radical Islam.
The van, which had Belgian plates, crossed the border into France, the paper said. Geneva officials could not confirm the report.