Nobel prize banquet needs to be 'fit for a king'
Comments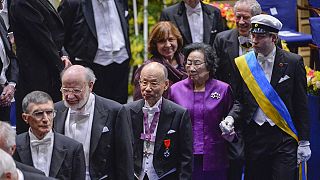 In Sweden, Nobel Prize winners received the awards for literature, chemistry, physics, medicine and economics, as stipulated in the will of the Swedish-born Alfred Nobel.
The King of Sweden presented the at the Stockholm Concert Hall.
Later they will attend a banquet at the city hall, where guests will include hundreds of royals, prominent politicians and VIPs such as European Central Bank President Mario Draghi.
Security around the festivities has been beefed up this year after Sweden raised its terror threat level to the highest ever after the Paris attacks.
Each of the prizes is worth more than 867,000 euros.