Tunisia's prized democracy 'will strike back' against terrorists
Comments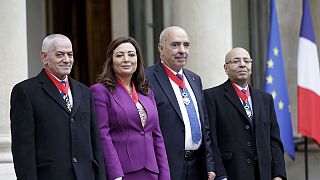 Abdessattar Ben Moussa's faith in democracy is unshakable.
He reiterated this when France made the members of Tunisia's National Dialogue Quartet commanders of the Légion d'Honneur in Paris this week, just before the group was awarded the Nobel Prize for Peace in Oslo.
Touching on the Nov. 13th terrorist killings in the French capital and others, Quartet President Ben Moussa said:
"The terrible attacks that happened in Tunis in the same month tried to end the democratic process. We must help Tunisia's young democracy to preserve peace in Tunisia, France and everywhere else in the world!"
The quartet representing Tunisian labour, industry, human rights and lawyers in 2013 helped save the foundations of Tunisia's transition to democracy by organising difficult talks between the Islamist Ennahda party in power then and the opposition.
Of all the countries that experienced the Arab Spring uprising, only Tunisia—where the uprising first began in 2011—successfully rode out the shock waves.
Following decades of authoritarian rule, after two years of debates Tunisians agreed to reconfirm progressive principles in a new constitution.
They celebrated a free and fair presidential election last year.
But the young and fragile democracy fell prey to an attack this March. Jihadists shot dead 22 mostly European tourists at the National Bardo Museum.
Since 2011, Islamists had attacked Tunisia but mainly in remote areas. This time they struck the capital.
The country's tourism sector, still struggling to recover from the impact of the Arab Spring, staggered again in June, when a gunman at the beach resort of Sousse killed 38, mostly British, holidaymakers.
President Beji Caïd Essebsi announced a state of emergency after Sousse, as provided for under the law, he took care to point out.
He repeated that in November, less than two months after lifting the state of emergency, when a bus bomber killed 12 of the president's own guards—in Tunis again!
According to the United Nations, more than 5,000 Tunisians have become jihadists in Libya, Iraq or Syria.
The democratically elected Essebsi said on national television: "They want to make us live with horror, but we'll bring that horror to the terrorists."