No breakthrough for France's National Front, says new poll
Comments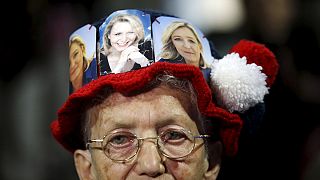 France's far-right National Front may not get enough votes to win two key regions in this weekend's local election second-round run-offs, according to a new poll.
The country's mainstream parties have been scrambling to stop the rise of Marine Le Pen and her niece, Marion Marechal-Le Pen after they made massive gains in last weekend's first round of voting.
In the French Riviera PACA region, the poll shows that in the second-round run-offs, Marion Merechal Le Pen would lose to the right-wing candidate Christian Estrosi who's been gaining support from the left.
"Do we speak about the actual Christian Estrosi of the present, who in the last few days has transformed himself into the candidate of the left, or do we speak about the Christian Estrosi of the past who wanted in time an alliance with the National Front of Jean-Marie Le Pen, in 1988, in 1991, in 1992, in 1993, in 1998?," asked Marion Maréchal-Le Pen. "What a strange opponent!"
The poll for television station LCI and newspaper Le Figaro found that many left-wing voters will support the conservatives in the second round to keep the National Front from winning.
Many people are applying at police stations to vote by proxy to make sure the anti-Europe, anti-immigrant National Front don't make the big breakthrough they're hoping for.