Cameron visits Romania and Poland seeking support for EU reform
Comments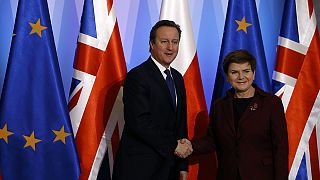 The British Prime Minister has been in Poland, seeking support for his demands for EU reform.
This ahead of a crucial referendum on UK membership due by the end of 2017.
David Cameron says he and the Polish Prime Minister will work together to find a solution to his concerns about welfare payments for EU migrants.
"We both want to see a stronger role for National Parliaments and the acceptance that an ever closer Union is not the aim of all," he told a media conference.
"We both want new rules to govern the relationship between those inside the eurozone and those like Poland and the UK who are outside. We both think much more should be done to make the EU a source of growth and jobs".
Cameron has also been in Romania for talks on the same issues, saying he is confident solutions can be found.
He also paid his respects at the site of a recent nightclub fire in Bucharest which claimed the lives of 60 people.