Venezuelan opposition triumphs, economy needing urgent action
Comments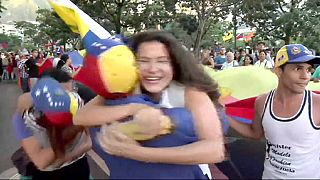 Confirmed as the winners of a two-thirds super majority in Venezuela's parliament, the victorious opposition draws a line under 16 years of 'Chavismo', the left-wing political ideology of the late president.
The Democratic Unity coalition MUD (Mesa de la Unidad Democrática) secured 112 seats in the 167-member National Assembly, promising sweeping change.
MUD Secretary-General Jesús Torrealba launched an appeal: "We urge the national government to take emergency measures in the economic and social agenda. The country has a very severe supply problem—a severe problem of available food."
The opposition also wants more than 70 political prisoners to be amnestied.
Delsa Solorzano, who won a Democratic Unity seat, said: "The unity expressed on Sunday deserves that this climate of harmony and reconciliation be respected, that all our political prisoners be declared free, immediately."
President Nicolás Maduro accepted defeat quickly, early on Monday, but ruled out releasing jailed politicians.
"As the head of state, I will not accept an amnesty… because they violated human rights. The bad guys won. They won the way bad guys win, with lies and deception," he said:
The former bus driver whom voters widely blamed for mismanagement of the economy has called for the government to step down. His term has years to run but opposition hardliners want a referendum to oust him.
Housewife Enriqueta Camacho talked about the candidates who lost saying: "They didn't do a good job. They didn't distribute resources to the community, that's why everything collapsed. 'Boom,' they lost. Now, let's see if the new ones will help us with those long line-ups we have to stand in."
Those line-ups are from Venezuela's endemic consumer-goods shortages and the world's highest inflation—more than 85%.
The government has been paying for social programmes and subsidies out of oil revenues, one of the world's top exporters, but when the price plunged, income dried up.
The government kept the Chavez legacy distorted exchange-rate system and capital and price controls, and printed a lot of the bolivar currency, but blamed private sector business for the economic shambles this created.