Venezuela's opposition awaits final count but claims a convincing election win
Comments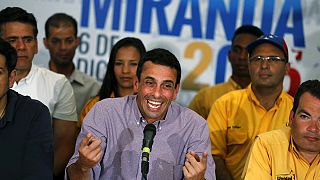 Venezuela's opposition has been celebrating its shock triumph in legislative elections while waiting anxiously for the final tally.
Leader Henrique Capriles claims his Democratic Unity coalition has won at least 112 seats in Congress , giving it a crucial two-thirds majority enabling it to make sweeping changes to legislation.
However there has been no confirmation of that from the National Electoral Council. What is certain is that Capriles and his coalition partners have inflicted a major defeat on President Nicolas Maduro's Socialists after 17 years.
President Nicolas Maduro has admitted defeat – the worst for the movement founded by late leader Hugo Chavez in 1999. However, under Venezuela's presidential system the United Socialist Party of Venezuela (PSUV) will still be a powerful force, as it controls many municipalities.
But if Capriles' claim is confirmed, senior opposition figures say the coalition will be able to pass laws allowing the release of political prisoners and to reverse, for example, appointments to senior legal positions made by the current government.
It would also give a stronger momentum to the opposition should it wish to call a referendum on Mr Maduro's future. This could take place only when his presidency reaches its halfway point in April next year.
The LifeNet Daily News is out! https://t.co/37hV8aiwAA

— Henry Todd (@DUNIMAS3) December 8, 2015