Hopes rise of climate deal as EU forms new alliance
Comments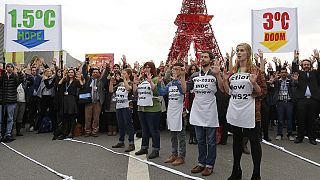 The EU has formed an alliance with 79 African, Caribbean and Pacific countries – in a bid to seal a deal at the COP21 climate conference in Paris.
It is said to have found common ground on some of the most divisive issues and wants the final agreement to be reviewed every five years.
"The Paris agreement must be a legally binding, inclusive, fair, ambitious and robust agreement," said Miguel Arias Canete, EU Climate Commissioner.
"That it must have a long term goal to be the guidance of the travel we are going to have to pass from the actual situation to a limit of two degrees centigrade."
Alliance negotiations are continuing over how that global warming target could be reduced further to one and a half degrees Celsius.
The EU will stump up 475 million euros of funding to support climate action in partner countries.