Oscar Pistorius granted bail on murder conviction
Comments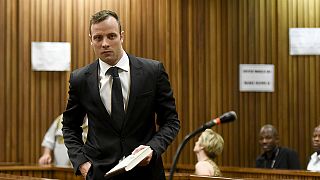 Paralympian Oscar Pistorius has been granted conditional bail following his conviction for murdering his girlfriend Reeva Steenkamp.
The bail conditions require him to be held under house arrest at his uncle's Pretoria mansion.
He may leave the house between 7 a.m. and 12 noon but is only allowed to travel within a radius of 20 kilometres. He will wear a tag for electronic monitoring.
The case has been postponed until April when he will face a minimum sentence of 15 years.
Last week South Africa's Supreme Court upgraded the athlete's sentence to murder from culpable homicide, an equivalent charge to manslaughter.
His lawyer said on Tuesday that he intends to appeal that ruling at the country's top court. It was not immediately clear on what grounds the appeal would be based on.