Roman Catholic Jubilee Year balances security with forgiveness
Comments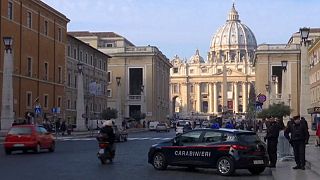 Vatican City is braced for the arrival of millions of pilgrims for the Roman Catholic Jubilee Holy Year. Pope Francis announced it by surprise in March. It starts this Tuesday. Coinciding with the Nov. 13th attacks in Paris, Islamist militants threatened to "invade Rome".
This isn't a religious war.
A Catholic pilgrim from Naples, Maria Di Palo, said: "It's natural that security controls are very high because of the latest terrorist attacks, although they have nothing to do with the Jubilee, because this isn't a religious war. But checks are good, you never know."
Pilgrim Cristian Forastiere, from Potenza, said he found buying tickets straightforward, online, with pickup at the Pilgrim Information Centre.
Research firm Censis forecasts the Jubilee will draw 33 million people to Rome, but after Paris many officials only expect 13 million visitors—the same as in a normal year.
Francis will open the Holy Door of St Peter's Basilica to launch the Jubilee. He says he wants the 1.2 billion member Church to be more generous, and more forgiving to sinners; however, metal detectors are in place to enter St. Peter's Square, and security drones will fly over it.