Five go on trial at the Vatican
Comments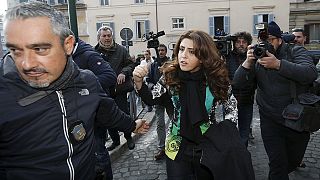 The trial has opened in the Vatican into the alleged theft of confidential documents from the Holy See.
Journalists Gianluigi Nuzzi and Emiliano Fittipaldi are among five defendants, including a senior Spanish priest
Emiliano Fittipaldi & GianluigiNuzzi</a> described the Vatican as operating like a totalitarian state.<a href="https://twitter.com/hashtag/vatileaks?src=hash">#vatileaks</a> <a href="https://t.co/3ASyKXFcOQ">pic.twitter.com/3ASyKXFcOQ</a></p>&mdash; FairSquare (networkfs) November 25, 2015
The hearing was adjourned from last week when one of the accused, Francesca Chaouqui, changed her lawyer and requested more time for her defence.
"I didn't give any papers to anyone," she told reporters outside the court. "They are calling me a witch, here, where trials for witchcraft were invented."
#VatiLeaks, il processo alla prova dell'opinione pubblica marcoprat</a> <a href="https://t.co/kuMSnHHCI1">https://t.co/kuMSnHHCI1</a> <a href="https://t.co/LY0T7rRwqJ">pic.twitter.com/LY0T7rRwqJ</a></p>&mdash; l&#39;Espresso (espressonline) December 7, 2015
Dopo #ViaCrucis, leggiamo anche questo. #Avarizia di emifittipaldi</a> <a href="https://t.co/EmzK6ol5hH">pic.twitter.com/EmzK6ol5hH</a></p>&mdash; MarK Spit (MarK_Spit) November 27, 2015
Questa sera GianluigiNuzzi</a> incontra i lettori alla <a href="https://twitter.com/IBS_it_Roma">IBS_it_Roma ore 18h #ViaCrucis Vi aspettiamo! IlLibraio</a> <a href="https://t.co/83lyD7TcmZ">pic.twitter.com/83lyD7TcmZ</a></p>&mdash; Chiarelettere (chiarelettere) December 7, 2015
Emiliano Fittipaldi and another journalist, Gianluigi Nuzzi, are both publishing books this month.
They claim to have details of greed and graft at the Vatican and the resistance faced by Pope Francis as he tries to clean it up.
Chaouqui: «Ho sbagliato ad accettare la nomina del Papa» https://t.co/nIiq3WIg0Lpic.twitter.com/A2orzImOR0

— Corriere della Sera (@Corriereit) December 7, 2015
Vatican officials say the documents were handed to them by Chaouqui, Spanish Monsignor Angel Lucio Vallejo Balda and his assistant, Nicola Maio.
They have been indicted with three other people, including a high-ranking monsignor in the Vatican, in a scandal involving leaked documents that formed the basis of two books alleging financial wrongdoing in the Roman Catholic church bureaucracy.
Leaking Vatican documents carries a possible sentence of six months to two years in prison and a 2,000 euro fine. The penalty was brought in after an earlier scandal during the papacy of Benedict XVI.
If it is decided the leaks harmed the Vatican's fundamental interests, the sentence can be raised to eight years in prison.
The Jubilee of Mercy
The trial opens as the Holy See is gearing up for one of its busiest weeks in recent times.
Benedict XVI will attend Holy Door opening at Vatican to start Year of Mercy #YearofMercyhttps://t.co/69gTHLnjidpic.twitter.com/5tyqlAgHDX

—

CBCPN

ews (@cbcpnews) December 7, 2015
#Vatican already set for visitors through St. Peter's Basilica's Holy Door, which Pontifex</a> will open tomorrow <a href="https://t.co/cMZksdp6U0">pic.twitter.com/cMZksdp6U0</a></p>&mdash; Joshua McElwee (joshjmac) December 7, 2015
100,000 pilgrims are expected in St Peter's Square for the opening of the Holy Door, marking the beginning of the Catholic Church's year-long Jubilee of Mercy.