'This is for Syria': Terror probe underway after knife attack on London Underground
Comments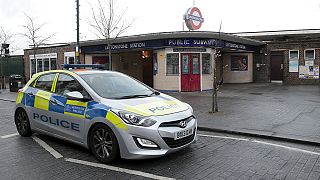 In what is being treated as a terrorist incident, a man allegedly shouting 'This is for Syria' attacked people with a knife at a London underground station, injuring three, one of them seriously.
As terrified passengers ran for cover at Leytonstone tube station in the east of the city, officers moved in with Taser stun guns, managing to subdue and arrest the suspect after more than one attempt.
Images of the horrifying scene were uploaded to social media which also picked up on the cry of one onlooker.
"You are no Muslim bruv," a man cried out, in rejection of the stabbing incident.
Britain unites in rejection of Leytonstone attacker https://t.co/WanJA99eIy#YouAintNoMuslimBruv

— The Independent (@Independent) 6 Décembre 2015
The horrifying scene, early on Saturday evening, unfolded in front of many witnesses.
One of them, Michael Garcia, described what he saw:
"I look over. I see a guy huddled on the floor behind the barriers and a guy brandishing a knife. It was a small blade that was about three inches long and he's screaming: 'Go on then, run, run!'. And there is just people…wanting to go forward and help the guy, but the guy is standing right next to him just brandishing a knife."
BREAKING: Man arrested after a stabbing at Leytonstone Tube station. https://t.co/o788waJOOXpic.twitter.com/7FavE1RgPr

— Evening Standard (@standardnews) 5 Décembre 2015
The arrested man is believed to be aged about 29.
The badly-hurt victim is thought to be 56. His injuries are serious but not life-threatening.
Two other people had minor injuries, police said.
"We are treating this as a terrorist incident," Richard Walton, who leads the Counter Terrorism Command at London's Metropolitan Police, said in a statement.
Britain is on its second-highest alert level, meaning a terror attack is considered highly likely mainly due to the threat posed by ISIL in Syria and Iraq encouraging supporters to strike the West.
Last week, MPs gave the go ahead to air strikes on ISIL targets in Syria. Since then, Britain's Royal Air Force has launched two bombing raids,
Prime Minister David Cameron has said air strikes would not increase the chances of an attack on Britain, since militants already viewed the UK as a top target with seven plots foiled over the past year.