Greek parliament narrowly approves 2016 austerity budget
Comments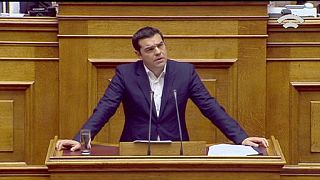 The Greek parliament has narrowly approved a 2016 budget which includes sharp cuts in spending and some tax increases.
The measures were conditions set by the country's international lenders when Athens signed up to a third rescue package from euro zone governments in August worth up to 84 billion euros.
Reuters Business: Greek parliament approves 2016 budget https://t.co/IudPTildmH

— kiisplay (@kiisplay) December 5, 2015
Prime Minister Alexis Tsipras said it was difficult for a government that wants to promote social justice.
"Our goal was, and still is, the deep and radical reform of the economic, productive and social model of the country. To support labour rights, employment; the broadening of the social state, the protection of public property, fair taxation, and the protection of the environment."
The budget makes 5.7 billion euros in public spending cuts including 1.8 billion from pensions and 500 million from defence.
It was passed by 153 votes to 145 with two members absent.
Our reporter in Athens Stamatis Giannisis" said:
"In spite of the slim majority the SYRIZA led coalition government had a relatively quite night in parliament as it successfully managed to pass the 2016 budget through. There's no guarantee however, that this will be repeated in a few weeks time when further austerity legislation including a bill on the reform on social security with substantial pension slashes will be presented to the Greek national assembly."