Thirty-two oil workers reported dead as rig catches fire in Caspian Sea
Comments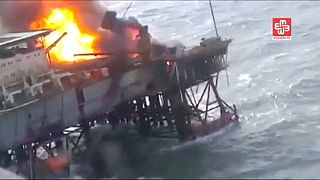 Thirty-two oil workers died in a fire on an offshore platform in the Caspian Sea on Saturday.
The rig was operated by Azerbaijan's state energy company SOCAR.
The country's Oil Workers' Rights Protection Committee said 42 people were rescued.
The company said the fire started after a gas pipeline was damaged in high winds.
SOCAR said on its Facebook page that 26 workers had beenrescued.
Around 60 percent of SOCAR's oil production passes via the platform where the fire broke out.