Two more suspects linked to Paris attacks identified
Comments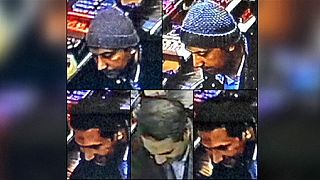 Police have identified two new suspects they believe were with the man who has been on the run since the Paris attacks.
Police say the pair, known as Soufiane Kayal and Samir Bouzid, are "armed and dangerous".
#AppelaTemoins 2 hommes avc fausse cartes d'ident #Belgique:
Samir BOUZID et Soufiane KAYAL.
https://t.co/Z2KSCAPO3Apic.twitter.com/3GsmnNsixA

— RQ Skye (@rqskye) December 4, 2015
Linked to Salah Abdeslam
#ParisAttacks suspect Salah Abdeslam 'has fled to Syria'
https://t.co/FKUnpKv1CKpic.twitter.com/jfWCHndO6E

— Times of India (@timesofindia) November 30, 2015
They are thought to have been with Salah Abdeslam in Hungary in September.
Abdeslam was stopped at the Austrian border along with two men carrying fake passports in the names of Kayal and Bouzid.
Both have been indirectly linked to Paris attacks.
The Hungarian authorities believe Abdeslam recruited supporters from the crowds gathered at Keleti station in Budapest.
Press reports suggest he left with two men who had refused to register with the Hungarian authorities.
Arrests in Belgium earlier this week
This latest appeal for witnesses comes just days after another two men were arrested in Brussels.
A 20-year-old Moroccan national was detained just before getting on a plane at Brussels airport on Sunday.
A 28-year-old Belgian was also arrested in the Brussels neighbourhood of Molenbeek.
Both face charges relating to the Paris shootings and bombings.