Tokyo Grand Slam: Japan kick-start season-ender with gold medal clean sweep
Comments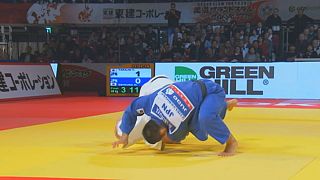 Tokyo Grand Slam is the final event of the judo year and also acts as a qualification tournament for next year's Olympic Games in Rio.
In total 295 men and 181 women will compete over three days of competition, which boasts 150.000 euros in prize money.
For the season-ender Judo returns to the place of its birth.
Five medals were on offer on day one and all five were swept up by the host nation.
In the first of three all-Japanese finals Ami Kondo struck -48 kilo gold beating compatriot and double world medallist Haruna Asami, who overcame Brazil's reigning Olympic champion Sarah Menezes in the semis.
Kondo won her third Grand Slam title courtesy of an immobilization for ippon.
Revenge medal #JudoTokyo2015 for Kondo Ami https://t.co/DcCwBZiu75pic.twitter.com/EWS86tje40

— nipponjudo (@nipponjudo) December 4, 2015
Japan's second gold came courtesy Misato Nakamura, who highlighted her status as world champion by seeing off compatriot and Paris Grand Slam bronze medallist Ai Shishime in the under 52kg final.
Nakamura controlled the fight from the start and after her opponent committed three shido penalties, the 26-year-old was celebrating her sixth career Grand Slam crown.
Misato Nakamura claims gold at #JudoTokyo2015https://t.co/h5EpsoIChg#WorldordereJudo</a> <a href="https://twitter.com/nipponjudo">nipponjudopic.twitter.com/U7ktPsqMJc

— JudoInside.com (@JudoInside) December 4, 2015
Yoshida Tsukasa was all smiles on top of the -57 kilo podium as Japan's Education, Culture and Sports minister Mr Hiroshi Hase wrapped the shiniest of medals around her neck.
Yoshida thrilled her home support by defeating French judoka Hélène Receveaux in the final.
And boy did she do it in style – a stunning uchi-mata for ippon and her second Grand Slam title this year after Tyumen in Russia.
Surprise final U57kg but Japan dominate all categories https://t.co/RDqZhUrlPS Yoshida Tsukada wins gold nipponjudo</a> <a href="https://t.co/uiNH5RIrWL">pic.twitter.com/uiNH5RIrWL</a></p>&mdash; JudoInside.com (JudoInside) December 4, 2015
Japan's Naohisa Takato's confident entrance was backed up with a confident performance as he won the men's under 60kg category.
In the final, the 2013 World Champion demonstrated his impressive technical skills to beat Russia's Beslan Mudranov to seal a sixth career Grand Slam title.
Emotional Takato Naohisa back at highest stage #JudoTokyo2015https://t.co/yAxSGaOsko Read all stories. nipponjudo</a> <a href="https://t.co/FBKS8AfgyI">pic.twitter.com/FBKS8AfgyI</a></p>&mdash; JudoInside.com (JudoInside) December 4, 2015
And finally IJF president Marius Vizer had the honour of awarding a deserved gold medal to Takajo Tomofumi, who beat three-time world champion and team-mate Masashi Ebinuma in the final of the -66 kilo class.
Takajo who triumphed at the 2015 Asian Championships, registered one waza-ari and two yuko points in the final en route to his second grand slam triumph of the year after Tyumen.
Takajo Tomofumi outsmarts Ebinuma Masashi in Tokyo final https://t.co/Fm3TcQbKZi So many alternatives in Japan pic.twitter.com/Oat2Lkgpuy

— JudoInside.com (@JudoInside) December 4, 2015