Zuckerberg to give away 99% of his Facebook shares to good causes
Comments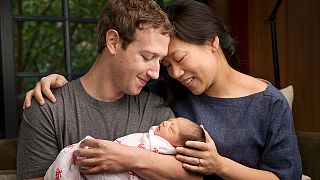 Facebook founder Mark Zuckerberg and his wife Priscilla Chan have promised to give away 99% of their shares in the company to good causes as they announced the birth of their daughter Max.
The shares which are currently worth $45 billion are to be put into a new philanthropy project focusing on human potential and equality over their lifetimes.
Max was born last week, but the couple only made the news of her birth public on Tuesday (Dec 1st).
Zuckerberg made the announcement in a letter to Max on his Facebook page. It has already attracted more than 570,000 "likes" including one from Melinda Gates, wife of Microsoft founder Bill Gates who together are other high-profile billionaires who have set up foundations of their own to dedicate their massive fortunes to philanthropic endeavors.
Chan and Zuckerberg have so far committed $1.6 billion to charitable works. They have given several donations this year, including to public schools, initiatives to bring better wireless Internet access and to San Francisco General Hospital, where Chan works as a pediatrician.
Zuckerberg said he will remain CEO of Facebook for "many, many years to come," and Facebook said he is expected to be the controlling stockholder of the company for the "foreseeable future".
Mark Zuckerberg makes a multibillion-dollar pledge in honor of his daughter's birthday: https://t.co/raX9qxtGck

— Vogue Magazine (@voguemagazine) December 2, 2015