Britain debates Syria airstrikes ahead of key vote
Comments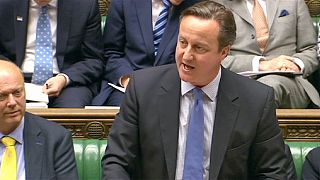 Britain is debating launching airstrikes in Syria against the group calling itself Islamic State(ISIL) ahead of a vote on military action.
Prime Minister David Cameron urged MPs to approve the strikes saying Britain could make a "real difference" to the US-led operation to destroy the group.
"…we possess the capabilities to reduce this threat to our security and my argument today is that we should not wait any longer before doing so," said the prime minister. "We should answer the call from our allies, the action we propose is legal, it is necessary and it is the right thing to do to keep our country safe."
Opposition leader Jeremy Corbyn criticised the conservative prime minister for rushing to war.
"I urge members on all sites the House to think very carefully about responsibility that lies with them today," said the Labour leader. "Do we send in bombers, not totally aware of the consequences are going to be, or de we pause, not send them in and instead put all of our efforts into bring about a peaceful, humanitarian and just political settlement to the terrible situation faced by the people in Syria."
If MPs support Cameron, as expected, British air strikes could be launched from a military base in Cyprus within hours of the vote.